Not going away: Travel agents still play a key role

By Peter Cobb, Dec 15, 2018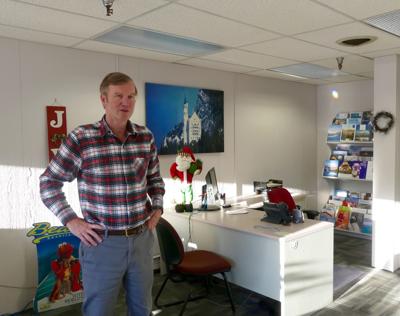 Scott Milne, of Milne Travel, stands in his Barre office.
Anyone with access to the internet and a credit card can plan a vacation to almost any location in the world without help from a travel agent or professional travel guide.
Would-be vacationers can book flights, reserve their hotel rooms, make reservations at local restaurants, arrange side trips, and read extensive reviews of the locations, vendors and events related to their trip.
The traveler can make the arrangement directly or use one of dozens of travel websites. Either way, there is no need to talk to anyone or to visit a local "brick-and mortar" travel agency.
Yet, despite the ability to make travel arrangements without professional help, most vacationers still use travel agents, according to Travel Technology Solutions, a global company that develops technology for travel agents.
According to the TTS website, 77 percent of the total cruise bookings, 55 percent of air-travel bookings and 73 percent of travel-package bookings are handled by travel agents.
The main reason most vacationers use travel agents, according to Scott Milne, the president of Milne Travel, with locations in Vermont, Maine, New Hampshire and New York State, is because travel agents make what can be a very complicated and daunting task, simple.
"Good travel advisors help clients navigate the complexities of choice, get the best value, offer leverage, and save time while getting the best value," Milne said.
A recent study by the American Society of Travel Agents (ASTA) titled "How Americans Travel" agrees with Milne. According to the study, which was released Dec 7 2018, "Consumers increasingly turn to travel advisors as sources of insider destination expertise."
"Online travel booking sites such as Hotwire, Expedia, Priceline, Orbitz, Kayak and Travelocity offer travelers the opportunity to build their own itineraries and sidestep vendor-direct ticketing," said Jennefer Teegen, the director of national marketing for Direct Travel, one of the largest travel companies in the country. 
"Our services ensure a completely personalized experience, meaning your vacation is tailored specifically to your special interests. Working with a travel advisor also provides the peace of mind of knowing that someone is working on your behalf before, during and after your trip," she said.
"Twenty years ago, conventional thought was that brick-and-mortar travel agencies were a modern-day business version of dinosaurs headed towards an impending ice age. Most of our competitors thought the path to survival was to shed expensive locations and talented and expensive people and pretend you were some sort of tech-savvy agency or call center. About two-thirds of the travel agencies in the U.S. disappeared over the past decades, while we've expanded" Milne said.
Milne Travel has merged with or acquired almost 30 companies over the past twenty years. The Milne office in Manchester, New Hampshire, is the largest travel agency in Southern New Hampshire.
"In the early days of the internet, there was a lot of conviction from airlines, hotels, cruise lines and other travel and tourism suppliers that they could increase margins and reduce threats from competition by getting clients to buy from them directly and cutting out the middlemen, which would have been Milne Travel. It turned out not to be true."
The internet did not kill the travel-adviser business, but did change it considerably, said Erika Ritcher, ASTA director of communications. One of the biggest changes, she said, is many travel agents no longer have business offices, but rather work from their homes and often specialize their work to a niche clientele.
Even brick-and-mortar companies such as Milne Travel use home-based employees.

"With talent being so important, we've got a great support network for independent agents who need a host agency, and about half of our people work from home supporting their clients today," Milne said.
Another change forced by the internet is agencies had to upgrade to survive.
"We do spend a lot more money on technology, everything from online booking tool technology and sophisticated meeting registration tools for our business clients, to six-figure phone systems," Milne said.
"The internet has been great for us. We easily compete for clients all around the world today, where we used to only have a few clients far away from our office. Travel advisors are more efficient and able now than we were in the pre-digital, paper world," Milne said. "It's important to remind ourselves that travel and tourism is the largest employer of people on the planet. I don't see that changing."
"The good news for our members is that we're seeing the U.S. travel market's eighth consecutive year of growth in 2018," said Zane Kerby, president & CEO of American Society of Travel Agents. "Americans' interest in travel remains strong, and we're confident that the U.S. travel economy will continue to grow".
This is a story that resonated strongly with the team here at New Zealand Vacations. Every now and then we get to see a New Zealand itinerary that someone has created themselves by using the internet and it saddens us to realize they are going to have a miserable time when they get there. 
Under-estimating driving times in New Zealand, trying to see too much of the country, so that everything becomes a blur, choosing accommodation that is poorly located (what exactly does a hotel description that reads "located a short distance from ... actually mean?). These are just some of the things we see that well meaning amateurs can get tripped up by. Mostly though it's about missing out on some of those hidden gems that put the icing on the cake of any New Zealand itinerary. 
As we've pointed out several times on our website, the starting point for the New Zealand Vacations team is the customer, and understanding the things that interest them most when they travel. Then we tailor make their itinerary with that information to help us create something unique and also, practical. As our Reviews & Testimonials page suggests, it's been a powerful component in celebrating our success, the customer first.
Our blog has a postscript, with this article published today in the influential Travel Market Report. 
10 Reasons You Should Use a Travel Agent in 2019
by Cheryl Rosen / January 18, 2019

Ten reasons 2019 be the Year of the Travel Agent. Photo: Shutterstock

This year promises to be a busy one for the travel industry, as record numbers of travelers take to the skies, the rivers and the seas. With more ships, more flights and less legroom than ever, Travel Market Report asked travel agents why they think a traveler should never travel without a professional travel advisor behind them. It's a good list to share with your clients and prospects. Here's what they said:
1. Travel is more complicated than ever.
With 24 new cruise ships coming online — never mind the new resorts and new airline fare categories — keeping with the options is a full-time job. And the growing trend toward groups of families and friends traveling together makes each trip a much more important purchase. Having a professional help with the planning and logistics can have a big impact on how much you spend on — and how much you enjoy — your vacation.
2. Travel advisors are on top of what's new and exciting. 
The world is full of once-in-a-lifetime experiences in 2019. If you'd like to see The Passion Play at Oberammergau, the Tokyo Summer Olympics, the 2020 World Expo in Dubai, the cricket World Cup in Australia or the inaugural sailing of Virgin Cruise, travel professionals have access to the best tour packages and exclusive events, and they understand how to navigate the logistics, said Ashley Metesh-McCoy.

2020 Olympic concept. Photo: voyata/Shutterstock
3. They save you so much time and stress.
Sure, reading about places to go is fun — but planning a trip is hard work, and you never know what to believe. Travel agents travel the world, looking at everything, from the size of the rooms in hotels and cruise ships to the dining options on-site and nearby. If they haven't personally been where you want to go, they know someone who has. They can answer your questions quickly and correctly.
4. Travel advisors have your back when you need an advocate.
Blame global warming, acts of God or just the luck of the draw, but 2018 was a year of volcanoes erupting, earthquakes shaking and airlines failing, not to mention just plain bad weather, and 2019 promises to be the same. Whether the problem is getting there, getting in or getting out, your travel agent will get you where you want to go.
5. There is no do-over for a vacation gone wrong.
Life is busier and more demanding than ever, and vacation time is more valuable. Travel agents can save you hours, not just in doing research to find you the perfect vacation, but also just sitting on hold with short-staffed airlines and resorts to make your vacation perfect.
6. Travel advisors add a human element — and an element of trust.
Travel advisors are invested in their clients' happiness and satisfaction and want to make sure each and every trip is packed full of positive lifelong memories. They listen, suggest, adjust, understand and become a friend ... not just a search engine or an anonymous voice. They are with you before, during and after your trip.

The human connection will always give advisors a leg up. Photo: Shutterstock
7. The world is constantly changing, and travel agents are on the ground experiencing it.
Has the Caribbean recovered from Hurricane Maria? Is it safe to travel to the Middle East? Travel advisors don't just sell a destination. They discover, research and experience the places they offer, over and over.
8. They often save you money — and if not, they deliver more value. 
Even if your travel agent charges a fee, the value you receive will be bigger than what you paid. Cruise lines and many resorts get the majority of their customers through travel agents — and they reward the best ones with perks to share with you.
9. Travel agents offer unique services for discerning clients.
It all comes down to who you know. And odds are, they know that guy or gal.
10. Like any professional advisors, they really do know more than you do. 
You can cut your own hair and do your own taxes and perk your own coffee, but a professional can do it better. You can plan your own vacation, too. Good luck with that.
More thoughts from the field.
We uncovered so much good information on this topic that we just had to share a few more comments with you.
David Liotta, of Flight Centre, offered a compelling insight: "Here's the Starbucks Analogy. One of the most popular and successful companies in America makes and sells something that almost everyone is capable of making for themselves at home. But people want the experience of buying from Starbucks, which includes the atmosphere and the skills of the barista. Starbucks also creates specialized products and they are experts in putting them together. You can get all sorts of fancy, complex drinks you didn't even think of before. Sure, you can make coffee at home, but how many of us would be able to create a complex concoction, and do it with the speed and consistency of a Starbucks barista? Because of all this, people readily pay more to buy from Starbucks, and no one would ever think of demanding that they price-match McDonalds coffee or complain to the barista that they could make the same thing themselves."
The most common theme and benefit of using a travel agent, as it is reiterated in several of the items on our top 10 list above, is how they help consumers sort through the overwhelming amount of travel options available today. Tom Carr, of Preferred Vacations LLC, said: "The evolution of unbundled airfares will continue in 2019. Basic Economy and other 'innovations' pose great challenges for the uninformed traveler. When the rules change, agents are uniquely positioned to provide vital advice."
In full agreement, Teri Hurley, of Endless Love Travel, noted: "We have what do-it-yourselfers don't, including ladders to climb and buttons to push. But most of all, we save people from themselves. Crowd-sourcing strangers on social media sites is a sure-fire recipe for trip disaster."
Karen Quinn-Panzer, of Dream Vacations Quinn-Panzer Travel, said: "It's a challenging cruise industry out there, and travel agents help people sort through all the cruise lines with dozens of cabin categories and multiple rate codes, refundable vs. non-refundable rates, guaranteed cabins vs. cabins with free perks. We help people find the best offer based on what's most important to them."
"Like an Alexa or Siri in the palm of your hand, I'm just a quick call, text, email or Facebook message away," quipped Dillon Guyer, of Guyer Travel International.
Travel advisors can also be heroes for their clients. Mark Gelfand, general counsel at National Dental and a customer of Teri Axel at Herricks Travel, commented: "My travel agent can do anything, from a birthday celebration in Aruba for 120 people to an intimate getaway in Jamaica with my wife. I just love working with her because she takes on all the stress, and I just go and enjoy myself."
Then, there's the matter of sorting out travel challenges when a trip goes awry. A frequent traveler, JP Acco, described: "True story … After a 23-hour flight to Bangkok, the hotel front desk told us our reservation had been canceled. We said, 'Here is the telephone number of our travel agent. Please call him and ask what happened to our reservation.' Clerk came back 10 minutes later and said he had found it. In the past, we've booked with Expedia and Airbnb and have been disappointed, and had to fix problems ourselves. But that takes patience — and after a 23-hour flight, I have no patience. Get an agent, who needs that stress?"
A customer of travel advisor Sandy Farber said: "We just returned from a trip to Eastern Europe where we had a problem with one of the airlines, and Sandy had us booked on another flight before anyone else on the plane even knew there was a problem."
In dealing with clients, travel agent John Sposato likes to add in some extras. He said: "I'm a believer in investing in my clients. I purchase things for them to help enhance their trip (a specific excursion, a goodie bag of maps and other items); I email checklists and other documents I have compiled over the years about things to do and top concerns."
The depth of one agent's passion for the industry and her clients is demonstrated in a comment from Suzanne Haire, of All Travel Company. She said: "Beyond the industry basics – the industry and product knowledge, time and cost savings, truthful and honest information and some upgraded perks, it really comes down to the fact that I run my business on a 'Know me, like me, and trust me' basis. Please DO friend me on Facebook. Please DO ask me questions or tell me things you just want to get off your mind. Please DO come to my Client Appreciation nights so we can say hello."
Travel Market Report expresses our thanks, also, to the following for providing information for this article: Sally Black, Chris Caulfield, Linda de Sosa, Elliot Finkelman, Marienne Guberina, Raye Bowling Hayden, Rachel Thomas Jarabek, Judy Karwacki, Mitch Krayton, Tracy Larson, Loulu Lima, Trenia Logan, Lainey Melnick, Rebecca Miranda, Denise Newell, Larry Norman, Linedy Rivera, Adrienne Sasson, John Sposato, Erin Stennett, Melissa Ulrich, and Michelle Winner.