Rare kākāpō parrots have best breeding season on record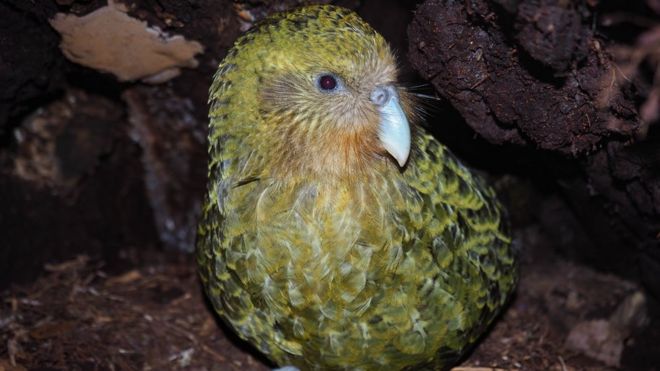 Image copyright NEW ZEALAND DEPARTMENT OF CONSERVATION
kākāpō were one of New Zealand's most common birds, but are now on the brink of extinction. 
But there's good news that's just been announced. The world's fattest species of parrot have just had their most successful breeding season on record, according to New Zealand's Department of Conservation (DOC).
This year, 76 chicks have been hatched under the DOC's conservation scheme, with 60 expected to reach adulthood.

The new batch is more than double that of the last breeding season in 2016.
kākāpō only breed every two to four years when their favourite fruit grows in New Zealand's Rimu trees - the period is known as a "mast year".
Their numbers have also been curbed by hunting, deforestation, and predators like stoats which were introduced by European settlers.
One scientific advisor to the DOC, Dr Andrew Digby, says scientists have seen bumper quantities of fruit on Rimu trees in recent years, an occurrence possibly caused by climate change. With so much fruit, many female kakapos have bred earlier and, in some cases, laid two clutches of eggs.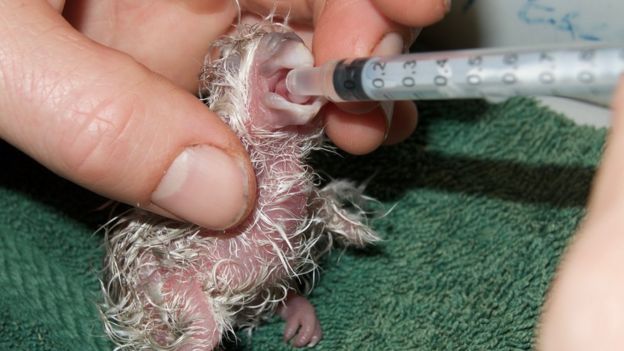 Image copyright ANDREW DIGBY/NZ DEPARTMENT OF CONSERVATION
All newborn kakapo chicks are raised in a secure facility before being released into the wild
Until the 1970s,
kākāpōs were thought to be extinct but a group was discovered on Stewart Island, south of the country's South Island.
Just 18 were known to exist by 1977, but New Zealand's DOC has spearheaded efforts to boost its population on two remote, predator-free islands.
Under the scheme, all newborn kākāpō chicks are raised in a secure facility and later released into the wild and tagged with a transmitter.
Each parrot also has its nest fitted with sensors and cameras, and is given a tailored diet via nearby feeding stations.
"They don't get a lot of privacy," Dr Digby said.
"I can log online and see what they're doing, see who they've mated with, how long for, and even the quality of the mating.
"It's probably one of the most intensively managed species in the world, certainly in New Zealand."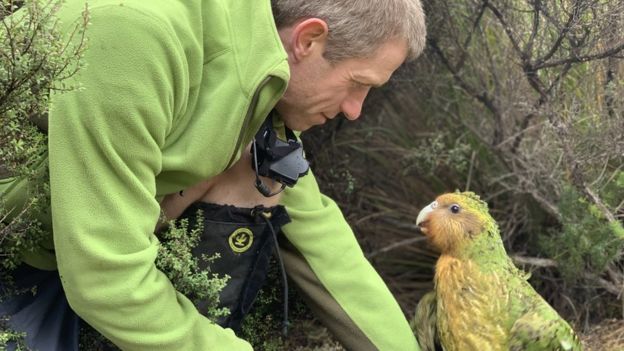 Image copyright ANDREW DIGBY/NZ DEPARTMENT OF CONSERVATION
The DOC says it wants to see 500
kākāpō in the wild, but is "attempting to back off" with each new breeding season
To raise awareness of the bird and the DOC's work, the department hosted a "chick viewing session" earlier this month.
The DOC also has an "advocacy" kākāpō, named Sirocco, who tours the country as an Official Spokesbird for Conservation.
"People fall in love with them," said Dr Digby. "They don't behave like a bird, they're a little bit human.
"They even look like a grumpy old man and they all have different personalities," he added.
Looking ahead, Dr Digby said the DOC wants to see population levels hit 500, but is "continually attempting to back off, with a bit less intensity each breeding season."
"The aim of our programme is for every child to grow up knowing what a kākāpō is, just like an elephant or a lion."
If you would like to read more about the kakapo, take a look at this interesting video.
STOP PRESS MAY 17:
As conservationists were celebrating this great news, bad news arrived as explained in this story by Radio New Zealand Senior Producer Alison Ballance.
Worrying times for kākāpō
From Kākāpō Files, 5:00 pm on 15 May 2019 

The fungal disease aspergillosis has caused the deaths of three kākāpō chicks in the past week. This is in addition to an adult kākāpō which died from the same disease just over two weeks ago.

The fearsome fungus has the Department of Conservation's Kākāpō Recovery Team and wildlife vets around the world scrambling to understand what is causing the outbreak, which is unprecedented for the rare parrot.
A further chick and two adult males have also died from other causes in the past fortnight, dropping the kākāpō population to 144 adults and 73 living chicks.
Five kākāpō are currently at Auckland Zoo for investigation and treatment for possible aspergillosis. These include the adult female Weheruatanga-o-te-po and the chick Awarua-3-A.
Auckland Zoo vets carried out CT scans on four of these birds yesterday and are currently waiting for a veterinary radiology specialist in the United States to read the scans.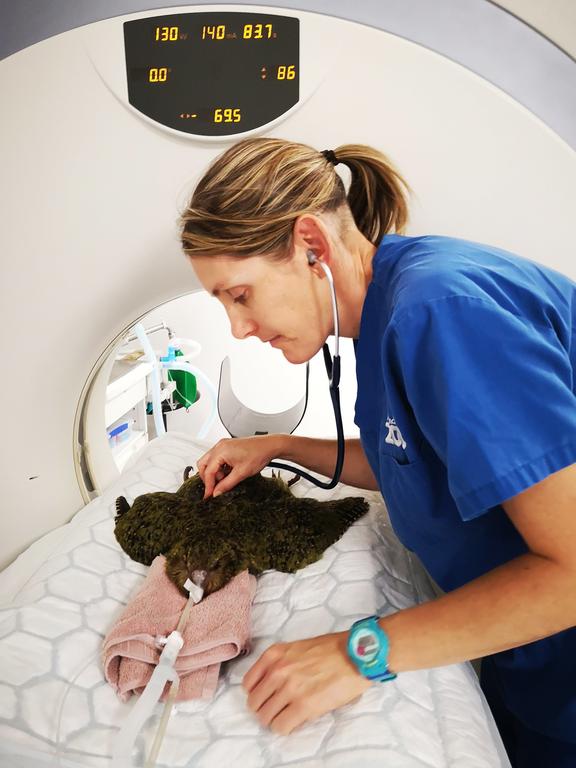 An Auckland Zoo vet monitors a kākāpō undergoing a CT scan during an investigation into whether it is suffering from aspergillosis. Photo: Auckland Zoo / Lydia Uddstrom. 
Auckland Zoo vet Dr James Chatterton, from the New Zealand Centre for Conservation Medicine, says that spores of the aspergillus fungus are ubiquitous in the environment, and only become a problem in stressed and immunocompromised animals.
However, the number of chicks succumbing to the disease after sharing a nest with other infected birds is causing alarm amongst wildlife vets and the Kākāpō Conservation team.
The problem is confined to Whenua Hou Island. There were initial concerns that artificial nest boxes might be contributing to the problem, but it is most prevalent in natural nest cavities.
The adult female Hoki was the first kākāpō to succumb to the disease. Since then, three chicks have also died from aspergillosis: Bella-2-A, Tumeke-4-A and Queenie-4-A.
Daryl Eason says all three chicks "were looking very good until very close to death, and they've all died from aspergillosis."
Aspergillosis is a very difficult disease to treat, says James Chatterton.
"One of the many frustrating problems when we're dealing with fungal infections in birds, is that often by the time the bird shows that it's sick, so by the time it looks lethargic and it's got breathing problems, often by then it's far too late to actually cure it," says James.
"And diagnosing it before the bird looks sick is extremely difficult."
Chick Waikawa-4-B also died this week, and Daryl says her death was not due to aspergillosis and "was an absolute mystery."
The adult male Arab has died from surgical complications and Gumboots was found dead after becoming stuck in a tree on Whenua Hou.
A sixth chick is being treated for a non-aspergillosis respiratory problem at Auckland Zoo.
Dr Lisa Argilla, at the Dunedin Wildlife Hospital, is looking after two surgical cases. Esperance-1-B, who Lisa says is now nicknamed Espie or Einstein, is recovering well following pioneering brain surgery two weeks ago.
Queenie-3-A was due to be operated on today to reset a broken leg which has healed badly."
So the battle continues and the team at New Zealand Vacations will keep you updated on progress.