New Zealand distance runner Nikki Hamblin, competing in the women's 5000m Olympic heats, tripped on the inside curb of the track with four laps to go, taking her US competitor Abbey D'agostina with her as she landed on the track. Both athletes, clearly hurt, proceeded to help each other get to their feet to continue on with the race.
After she fell, Nikki says she felt a hand on her shoulder, saying 'Get up, get up, we have to finish this,' and I said, 'Yup, yup, you're right. This is the Olympic Games. We have to finish this"
"I'm so grateful for Abbey for doing that for me" she added after the race "That girl is the Olympic spirit right there. I've never met her before ... isn't that just so amazing? Such an amazing woman"
Fans in Rio cheered and applauded the outstanding display of sportsmanship from both competitors and both athletes agreed that regardless of the result on the board, it was a moment that neither were going to forget for the rest of their lives. They may have finished as the last two competitors in the field, but their embrace and shared tears at the end provided a true illustration of the Olympic competitive spirit.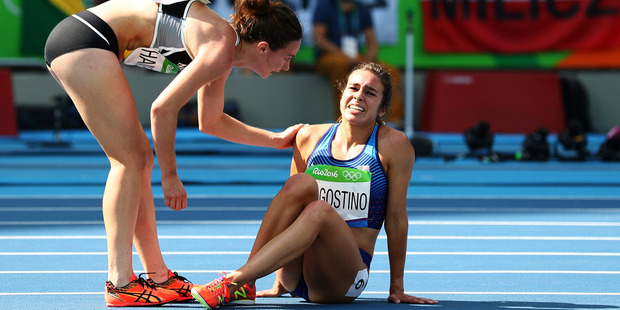 In a nice footnote, it has been agreed that subject to both athletes making a full recovery, they will be allowed to start in the final on Friday.

Later -  Last weekend, the International Fair Play Committee honored both D'agostina and Hamblin with the Fair Play award, which recognizes athletes who exemplify sportsmanship at the Olympic Games.